Volunteer at CapitalCare
Now Recruiting Youth Summer Volunteers! Click here for more information.
Make them smile, make their day!
Volunteers are a vital part of CapitalCare. They enhance the quality of life for our residents and clients. Volunteers help our residents maintain their independence. We provide ongoing support and training and offer flexible daytime and evening volunteer opportunities.
Our volunteers help by:
Visiting residents and clients
Accompanying residents and clients on outings
Assisting at mealtimes
Contributing to recreation and leisure activities
Providing spiritual care (click here for more information)
Bringing in pets to visit
We do not require our volunteers to have previous experience, however they must possess:
A willingness to help others
The acceptance of difference in others
The time to spare
Successful completion of the application process
CapitalCare has 11 continuing care centres that are great places to volunteer. Join our volunteer team and make new friends while gaining valuable healthcare experience.
For more information, check the list of positions, or contact the Coordinator of Volunteer Services at the centre of your choice.

Download volunteer brochure

Download application form
Discover what makes over 200 summer youth volunteers choose CapitalCare. No experience necessary!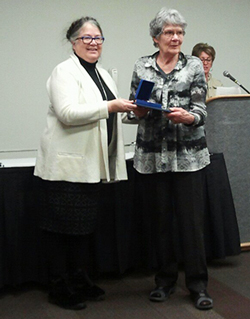 Dorothy Koesveld, a member of the CapitalCare Dickinsfield Auxiliary since 1998, received the Sovereign's Medal for Volunteers. The award was presented March 14 by Diane Lebouthillier, Minister of National Revenue, in recognition of Dorothy's participation in the Community Volunteer Income Tax Program (CVITP).
Dorothy joined the Dickinsfield Auxiliary and began volunteering in the Tuck Shop after her mother, who was a resident of Dickinsfield, passed away.
For nearly two decades Dorothy has advised the Auxiliary on its' fundraising activities, always exhibiting the CapitalCare value "Act Responsibly." Another value she embodies is "Work Together with Purpose." During her time, the Auxiliary, working with residents and the administration team, has raised funds for:
a bus, allowing residents to go to football games, picnics, shopping and more
furniture to decorate common areas
mechanical lifts
auditorium tables and sound system
and so much more!
We congratulate Dorothy on her recent award, and we thank her for her many years of service at Dickinsfield.
Angela Bennett, Coordinator of Volunteer Services,
CapitalCare Dickinsfield


download brochure

download application
---