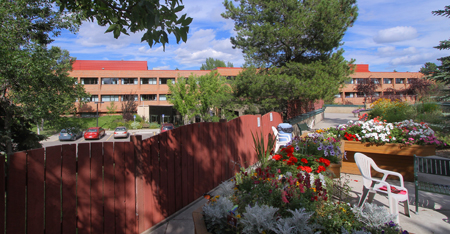 6215 - 124 Street
Edmonton, Alberta T6H 3V1
T

780.496.7100




F

780.496.7150
Grandview is located in southwest Edmonton. The centre has 135 long-term care beds and provides an environment that supports choice, autonomy and, where possible, independence.
In addition to general long-term care, Grandview offers the following specialized programs:
Dementia Care, Support and Comfort:
For residents with dementia or other form of cognitive impairment.

Not suitable for people who would be at risk of becoming lost if they left the building unaccompanied

.
---
Respite Care (General Long-Term Care):
Provides short-term care in our centre for individuals with complex health conditions who live at home.

Not suitable for people with a diagnosis of dementia.

Provides caregivers a period of rest or relief from their responsibilities.

A referral is needed to access this service.
---
Post-Acute Program (Orthopedic, Hip/Knee Replacement, Hip Fracture and Restorative Care):
For individuals with significant but stable medical conditions who require an extended period of recovery following the acute phase of surgery, illness or accident.

Provides continued rehabilitation, clinical care and discharge planning with a goal to successfully returning home.
---
For More Information
An assessment by Alberta Health Services is required before admission to this centre. For more information call 780.496.1300 or click here.