News & Events
The new Gene Zwozdesky Centre at Norwood is ready for the next phase.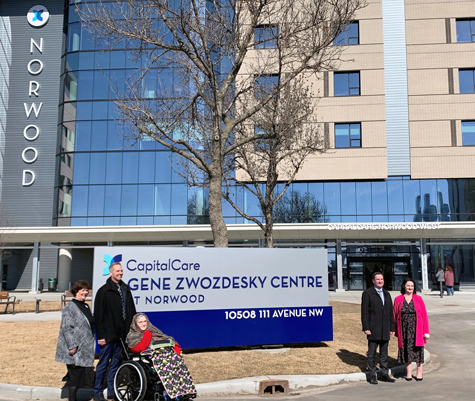 L-R: Carol Anderson, Chief Zone Officer for Edmonton Zone, AHS; Nathan Neudorf, Minister of Infrastructure; Helen Gulevich, Co-Chair, Norwood Resident Council; Jason Copping, Minister of Health; Aileen Wong, Chief Operating Officer, CapitalCare.
March 28, 2023 - CapitalCare celebrated the move to the next phase of operations for the Gene Zwozdesky Centre. The centre will be ready to be handed over to Alberta Health Services and CapitalCare, and for the installation of furniture, clinical equipment and training to begin.
As a leader in continuing care, this new centre of excellence will enhance CapitalCare's ability to provide innovative programs focused on complex continuing care and seniors' well-being. The state-of-the-art centre is a space of new technology, specialty programs including a community paramedic program, and hemodialysis among others.
"This is about more than new spaces. It is about creating new homes for residents that provide a fulfilling life. This modern expansion will serve the needs of the diverse population who need continuing care," says Chief Operating Officer, Aileen Wong. "I know we all look forward to seeing the rooms take shape and are excited to welcome residents, and the public, later this year."
The Gene Zwozdesky Centre reflects the evolution of continuing care. This building creates a home-like setting for residents and families with features including a rooftop garden, plenty of green space and a unique design that allows for daylight in all 234 of the private resident rooms.
"I know our staff are incredibly excited to begin the process of moving into this modern facility," says Site Director Mike Rickson. "We have been hard at work getting our staff and programs prepared and we're ready for this next phase."
The CapitalCare Foundation has been fundraising for many of the additional unique features in the Gene Zwozdesky Centre. The Foundation's "Stepping Up" campaign will support the new building in areas beyond government funding. It will support beautification of the garden areas, family visiting spaces, unique art spaces throughout the building and leading-edge equipment for rehabilitation and quality of life.
You can support the Foundation's continued work toward a goal of $6.3 million here.
For more information on the Gene Zwozdesky Centre click here.