Smiles for Grandpa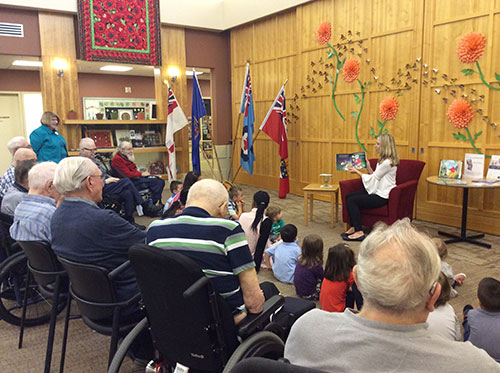 Jaclyn Guenette, author and CapitalCare employee, reads her storybook to Kipnes
Centre for Veterans residents and children from the YMCA daycare.
A CapitalCare employee has written a storybook to help young children understand dementia and maintain relationships with their families throughout the disease process.
Jaclyn Guenette is a social worker at CapitalCare Norwood. Previously, she worked in a hospital secured dementia unit and as a designated capacity assessor. Common questions she would get from families with young children focused on how to explain this very complicated disease to children, and how to keep kids involved in the lives of their loved ones.

"I Smile For Grandpa explores dementia in an inviting, loving, and compassionate way," says Guenette
The touching book follows the heartwarming relationship between Grandpa and his Little Buddy. When Grandpa is diagnosed with a dementia disease, Little Buddy realizes playing soccer together won't quite be the same. But, while the activities that Grandpa can do are changing, there is still much fun to be had. In fact, spending time with each other is as special as ever!

Using delightful illustrations, editor and illustrator Kathryn Harrison tenderly explores dementia through the innocent eyes of a child. Tips for speaking with children as well as a useful Q&A are also included.
"This book is so warmly written and illustrated," says Kim Pollard, also a social worker at CapitalCare Norwood. "Children who have loved ones touched by dementia will be able to relate to it in a meaningful way, feeling hope and reassurance."

The book, which had its Edmonton launch at the CapitalCare Kipnes Centre for Veterans this summer, is available for sale at CapitalCare gift shops. A portion of the proceeds benefit the Alzheimer Society of Canada and the CapitalCare Foundation.
---
Centre Recreation Calendars
---
People & Progress Newsletter Archive
For past issues, please select from the menu below.
Please select an edition